JANÁČEK ACADEMY OF PERFORMING ARTS is a public university-type art higher education institution that offers bachelor's, master's and doctoral studies.
Graduates of a 3-year bachelor's programmes will receive a bachelor's degree (BcA.). Graduates of a 4-5-year master's programmes, or those finishing a 2-year programme after already acquiring a bachelor's degree, will be awarded a master's degree in art (MgA.). Graduates of doctoral studies will receive the title of Doctor (Ph.D.).
A credit system is used to assess students, which is adapted to the European Credit Transfer System (ECTS). The students' artistic activities are publicly presented in the Theatre Studio Marta and in the Chamber Opera, at concerts, and as part of street theatre projects. We organise several events of high international prestige: the annual International Festival of Theatre Schools – Setkání; the traditional International Music Masterclass; and the Leoš Janáček International Competition.
THE FACULTY OF MUSIC is part of the university-type public art higher education institution. Its aims is to provide students with the highest levels of education, thus ensuring the professionalism of future soloists, conductors, members of artistic bodies of all types, teachers and music managers. Currently, there is one study programme accredited at Faculty of Music: Art of Music (see accredited study programmes). Since the academic year 2003/2004, most fields of study have been opened as bachelor's degree programmes, followed by master's and doctoral degree programmes.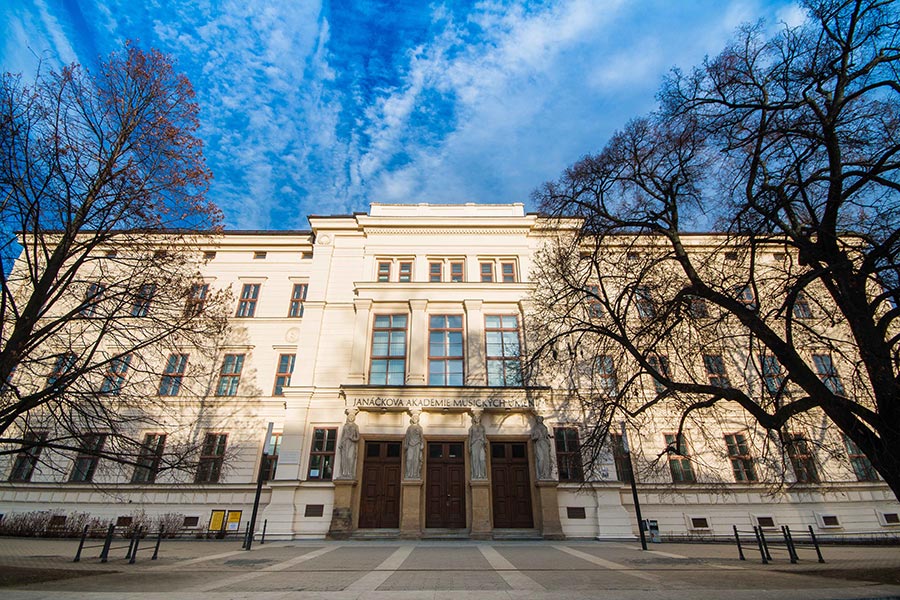 THE THEATRE FACULTY moved to a new three-level study system in the academic year 2003/2004, where all fields of study, with the exception of the acting fields of Dramatic Acting and Musical Acting, are organised as a system of bachelor's studies with following master's degree programmes. Currently, 2 study programmes are accredited at the Theatre Faculty: Dramatic Arts and Dance Arts (see accredited study programmes).